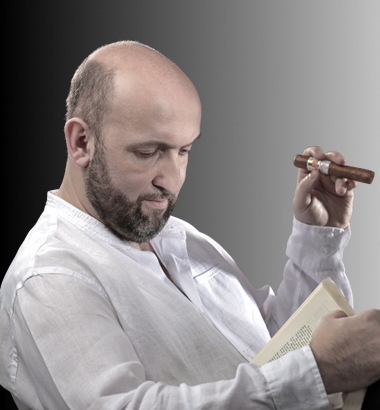 May I achieve only a simple and straight purpose of my life, like a reed pipe that you may fill with music. Rabindranath Tagore

André Heyboer comes from a simple family which was open to literature and music and gave him full support.
He began his musical debut at the age of eleven, when he sang in the Terrasson choir and the Brive Camerata Vocale. This experience triggered off a dream and convinced him that music was his true calling.
He performed music from the Renaissance, and French, Italian and German baroque, alongside professional singers, and was onstage in important festivals such as Festival de la Vézère, La Chaise Dieu, Sylvanes Abbey. He received a prize from the Jeunesses Musicales de France.
He developed an interest in harmony and studied classical guitar for eight years. He set poems by Baudelaire and Verlaine to music, which he sang at public concerts
The traveller must knock at every door before reaching his own… Rabindranath Tagore

He followed his vocation, with the support of local and private sponsors, and progressed from choral singing to solo work, whilst constantly improving his technique with private tuition.
In Toulouse, a major opera centre in France, he met world famous singer José Van Dam. He took master-class with him and sang in several concerts alongside the Master. It was in Toulouse that he sang for the first time a solo part in Charpentier's Louise, staged by Nicolas Joël and conducted by Michel Plasson.
He went on to solo as a police officer in Boris Godunov, Noye in Britten's Noye's Fludde, and a Flemish deputy in Don Carlos. He worked with Gian Koral, Juan Carlos Moralès and major French baritone Robert Massard.
In Paris he began studying with Michelle Wegwart, voice coach at the Opéra Bastille and founder of Magdala.
Between 2006 and 2010 he sang important roles along with such major singers as Neil Schicoff, Roberto Scianduzzi, Violetta Urmana, Dennis O Neill, Annick Massis, Natalie Dessay, Sophie Koch, and Ludovic Tezier. These include performances at the Toulouse Capitole in the role of Wagner in Faust, in Edouard Lalo's Le Roi D'Ys, and Roucher in Giordano's Andrea Chenier.
He performed this latter work several times in Marseille, Monte Carlo and at the Paris Opera, partnered with Spanish baritone Marcello Alvarez.
The Paris Opera also gave him other roles such as Ruggiero in Halévy's La Juive (2007), and Monsieur de Bretigny in Massenet's Manon. In 2009 he sang Halévy's La Juive in the Netherlands, land of his forbears, in a production at the Amsterdam Opera house. Followed several contracts in Monte Carlo : Silvano in Un Ballo in Maschera, Melot in Tristan und Isolde, whilst covering for the role of Kurwenal at the Montpellier Forum.
Major theatrical parts include Macbeth in Dijon, Enrico in Lucia de Lammermoor, Valentine in Gounoud's Faust, with a repeat performance in Avignon in 2012 with an all-French cast including Nathalie Manfrino, Florian Laconi and Nicolas Cavallier.
In Saint Étienne he sang both parts of Alfio and Guarrido in the same evening; in Marseille he was Guermant; and in Hong Kong he participated in the French May festival and sang the part of Manon's cousin Lescaut. He sang the title role of Rigoletto at the Sedières Festival.
All these performances were under leading conductors such as Y Abel, M Armiliato, P Arrivabeni, D Callegari, L Campellone, F M Carminati, A Guingal, L Hussain, F Layer, GE Octors, D Oren, E Pido, C Rizzi, C Schnitzler, D Trottein… and stage directors P Audi, R Auphan, J C Auvray, Y. Coudray, G. C. Del Monaco, O. Desbordes, N. Duffaut, J-L. Grinda, N. Joël, G. Lavaudant, S. Norday, Y. Oïda, V. Perez, S. Roche, C. Serreau, C. Servais, V. Vittoz.
He premiered in Mickaël Levinas' La Métamorphose at the Lille Opera house. This production received a Grand Prize in 2012 from l'Académie Charles Cros and an award from Académie Lyrique du disque. He sang the part of a violent father, which pushed his vocal range to its extremes.
He performed alongside Kate Aldrich in the part of Spendius, a greek slave, in a production of Reyer's Salammbô conducted for the first time in 70 years by Laurence Foster.
In 2012 he sang Zurga with authority at the Paris Opéra Comique in Bizet's Les Pêcheurs de Perles. This production, conducted by Léo Hussain, included major talents such as Sonya Yoncheva, Dmitri Korshak and Nicolas Testé.
He concluded 2012 with a recording session in Sofia of Catel's Les Bayadères, produced by the Palazetto Bru Zane.